Immigration is a real problem, but you can't question the realities or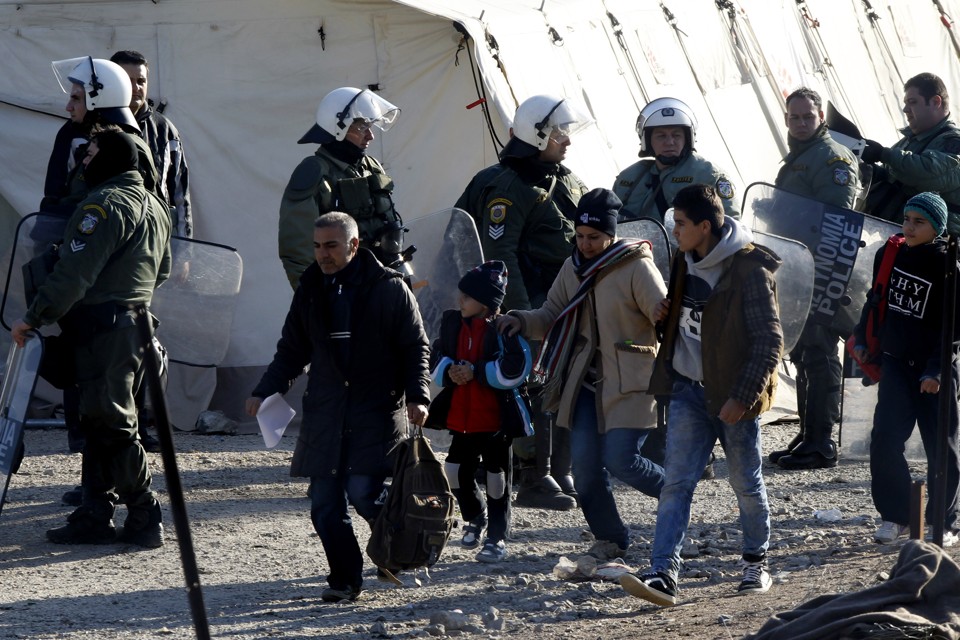 issues created by it in a PC world.
The San Bernardino shooters were already plotting a mass-murder attack on the United States before Tafsheen Malik received the K-1 visa admitting her to the United States. Her husband-to-be, Syed Farook, was born a U.S. citizen. Yet his family's immigration history should also raise searching questions about the process by which would-be Americans are selected.
It's not clear who exactly provided the first link in the chain of migration that brought the Farook clan to California and ultimately enabled the entry of Tashfeen Malik from Pakistan. That same chain, incidentally, also enabled the migration of Syed Farook's brother, also named Syed.
The large majority of legal immigrants choose to come—or, more exactly, are chosen by their relatives—for their own reasons. They are not selected by the United States to advance some national interest. Illegal immigrants are of course entirely self-selected, as are asylum seekers.
Donald Trump's noisy complaints that immigration is out of control are literally true. Nobody is making conscious decisions about who is wanted and who is not.
Frequent invocation of the refugee trauma of the 1930s shuts down all discussion of anything that has happened since. Since 1991, the United States has accepted more than 100,000 Somali refugees. Britain accepted 100,000 as well. Some 50,000 Somali refugees were resettled in Canada; some 40,000 in Sweden; smaller communities were settled in the Netherlands, Norway, and Denmark.
How's that going?
Minnesota is home to America's largest Somali community, 33,000 people. The unemployment rate for Somali Minnesotans in 2015 was triple the state average, 21 percent. As of 2014, about 5,950 of the state's Somali population received cash assistance; 17,000 receive food assistance as of 2014.

A close study of Somali refugees by the government of Maine (home to the nation's second-largest Somali community) found that fewer than half of the working-age population had worked at any time in the five years from 2001 through 2006.

Somalis have so much difficulty finding work in the developed world because their skills badly mismatch local labor needs. Only about 18 percent of boys and 15 percent of girls attend even primary school in Somalia.

Struggling with the transition from semi-nomadic-herder society to postindustrial urban life, young Somalis in the West are tempted by criminal activity.

Other young Somalis turn to political and religious violence. An estimated 50 American Somalis returned to fight for al Shabab, committing some of the most heinous acts of that insurgency. One carried out a suicide bombing that killed 24 people in 2009. Al Shabab claimed three American Somalis took part in the attack on Nairobi's Westgate shopping mall in 2013 that killed at least 67 people. Al Shabab is now intensely recruiting American Somalis to undertake terror missions inside the United States.
From Ann Coulter's book, Adios America:
A Chinese immigrant in New York, Dong Lu Chen, bludgeoned his wife to death with a claw hammer because she was having an affair. He was unashamed, greeting his teenaged boy at the door in bloody clothes, telling the boy he had just killed mom. Brooklyn Supreme Court Justice Edward Pincus let Chen off with probation—for murder—after an anthropologist testified that, in Chinese culture, the shame of a man being cuckolded justified murder … The female head of the Asian-American Defense and Education Fund, Margaret Fung, applauded Chen's light sentence, saying that harsher penalty would "promote the idea that when people come to America they have to give up their way of doing things. That is an idea we cannot support."
Oh My God! This immigrant did not know nor believe in the USA Constitution. Nor did the commentator.  Immigrants bring their culture and ways of living when they come and those definitely clash with American laws and values. How, though, can their values win the day in an American court over American law?  It used to be that ignorance of the law did not make an exception.
Michael Ignatieff is right to express concern about the hatred sweeping the Middle East (due to failed promises to recent immigrants). But to many Americans—and Canadians too, and Europeans, and other Westerners—it may seem reckless to respond to that hatred by inviting more of it into their own countries, and more reckless than ever after the Paris and San Bernardino jihadist atrocities. Obama and much of the elite media find that reaction cowardly, contemptible and even "shameful"—his word. But in a democracy, leaders who dismiss and denigrate widespread concerns soon find themselves ex-leaders. Everywhere in the Western world there is a fast-growing constituency for new kinds of immigration and refugee policies. If anything is shameful, it is the shabby, thoughtless, and arrogant elite consensus that has to date denied that constituency a responsible political leadership. But that too is changing, yielding to heavy evidence and hard experience.
More here in The Atlantic.
Related:
Syrian Refugees Like Jews Fleeing Natzis
Fort Lauderdale Gunman Planned Rampage
2016 Pulse Night Club Rampage, Wikipedia